Frequenty Asked Questions (FAQ)
This page lists some common questions and answers about our services and discusses some best practices that will help you save time in getting your designs manufactured.
What .zip should include?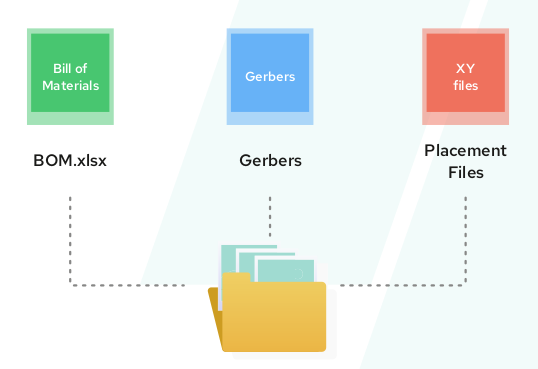 ---
Sample Order Files
We have a list of open-source projects that you can download and test the website here.
---
Technical Capabilities
You can review the technical specifications of the various machines used at PCBKingdom. If your needs fall outside these specifications, please contact us with your requirements.
---
BOM - Bill Of Material
What is a BOM?
BOM - Bill of Material is a list of all the components to be soldered on the PCB.
MPN - Manufacturer Part Number
DNP - Do Not Populate
Note:
Blank MPN
Our system will give a warning if a BOM is uploaded with a blank MPN field and may ask you to enter all the accurate details and upload the file again.
DNP - Do Not Populate
We understand if you would not want a chip to be populated, please mention "DNP" (Do not Populate) in the MPN column of the BOM to highlight this.
Quantity as Zero
If your BOM has 0 in the Quantity field, it will be treated as DNP (Do Not Populate).
Format of the Bill of Material (BOM)

Access our user friendly template to record the component list. (Speed up your time by using our template)
---
Where do I find MPN (Manufacturer Part Number)?
The key to deliver an error free BOM is the correct MPN details. Access the below catalogue of electronic component distributors (Third Party) to capture the MPN or look it up on the datasheet provided by the manufacturer.
Look up the Datasheet
---
How to generate a Gerber File?
Use the software of your choice and follow the steps on the links.
*Easily available links from the web.
Use our .cam template file for quick settings in Autodesk Eagle.
---
Placement Files
---
Partial Services
(PCB manufacturing/assembly)
Currently, we only cater to turnkey projects that establish end to end process. To optimize your deliverables, we would be unable to offer just PCB manufacturing or assembly services. However, if you need spare components for your project, just add it to the BOM and we will ship it to you.
---
Delivery Schedules
Estimate Dispatch date will be provided when the order is placed successfully, assuming we don't need to contact you for any clarifications after running manufacturing checks on your files.
However, there could be unexpected delays due to one or more of the following reasons:
Components are out of stock
BOM did not pass the Quality check
Stuck in Customs due to commercial reasons
We will notify you by email if there are any delays due to unforeseen circumstances.
---
Shipping
Free Shipping for you!
---
Payment
Our Payment gateway offers a variety of electronic payment options for you to choose from.
---
Order Cancellation
Unfortunately, we do not allow order cancellation because our supply chain is setup to process incoming orders immediately in order to give you the quickest service.
However, if you file a ticket against the order we might be able to pause the manufacturing process for you to make changes to the design files. You may have to pay the difference post the evaluation of the changes.
---
Email
Make sure that orders@pcbkingdom.com and support@pcbkingdom.com are whitelisted from your SPAM filters.
---
Contact Us
Find all the ways to reach us here.